Expert guide + methodical process
= your amazing website

Let's Meet
Visit our Get Started page.  You'll receive an email to setup a short phone call to say hello, discuss your needs and answer questions.
This call will be with your personal project manager, who you'll interact with throughout the entire process.

Get Your Website Delivery Date
After your first call, receive a kickoff link by email.
Click the link to setup a profile, access your project dashboard and make a secure deposit by credit card.
Target delivery date gets set as soon as you complete this step.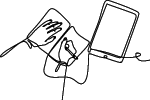 Plan With A Pro
Complete your online kickoff survey.  This short (5-10 minute) tool walks you through an exploration of your market, customers and website goals.
Your rep will schedule a 45-90 minute follow up phone and screen sharing call to further flesh out your website strategy.
Share documents, photos, logos & existing elements you have for us to work with.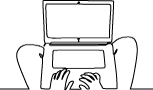 See A Live Prototype Website
Our team crafts a website structure with search engine optimized written content.
The written content is brought to life with a high end visual design matching your brand, goals and our previous discussions.
We send you a password protected live prototype website.
Follow up phone & screen sharing call with your rep to discuss and give feedback.

Launch
We launch your website to the world!
We submit the website to Google, install tracking tools, link your Google Business Listing and other admin tasks to help your website thrive.
With guidance, set up your personal email (name@yourdomain.com) & traffic monitoring app on your mobile device, computer or browser.
Celebrate!

Onward
Easily post content and manage the website yourself.
Monitor your website traffic on your mobile device using the Google Analytics App or a desktop browser.
Your website is backed up daily, monitored and kept secure on our dedicated servers.
We are always around to help!
All costs are included for the 1st year, then renewed on a monthly basis.
A Website Solution For
Saving time for the things that matter
A Website Solution For
Results You Are Proud Of